(an old East Prussen favorite)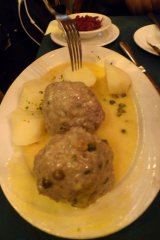 First off what's a Königsberger or what's a Klopse?  Good questions. Let's have a quick history lesson before we go over the recipe.  Königsberg (which means King's City) was founded by Teutonic Knights during the crusade crazy middle ages (sometime in the 1200s) in what's know as the "baltic crusade" (I guess a bunch of over zealous german, danish and swedish christians couldn't stand it that the northern baltic peoples were pagans just as much as they hated arab peoples controlling Jerusalem). At one time it was the capital and coronation location of all of Prussia, eventually it was just the capital of the German state of East Prussia. Eventually it grew into a grand city known for its museums, colleges, and culture.
In 1945, during world war II and as retaliation for the Siege of Leningrad, the Russians captured the city during the Battle of Königsberg and and detroyed it. Today, Königsberg is no more.  In 1946 it was reformed as the port city of Kalingrad and with the largest chunk of east prussia coming part of the surrounding Kalingrad Oblast, an odd piece of Russia now completely surrounded by the EU with no land connection to the rest of Russia.  The remainder of the German population left after the war was forcibly removed by the Russians in the following decade.
One item from Königsberg that survives into the present day is well known dish Königsberger Klopse.  Klopse is german for meatballs, and in this dish they are made from mixed meats (any combo of beef, veal or pork) and anchovies served in a white lemon cream sauce with capers. In East Germany, during the cold war, it was officially just known Kochklopse (meaning boiled meatballs) to erase references to the former Prussian city in a typical Soviet revisionist history way.
This dish has been a favorite of mine for a number of years. As far as I know only my great grandfather was from Königsberg and since men back then (for what I've heard especially this man) didn't cook it's most likely a stermer family recipe new made it to the new world so it's not a dish I grew up with.
Typically the meatballs are served with boiled potatoes on the side.  I also find a nice dark Lithuanian bread goes great with them as well (hey east prussia and lithuania were neighbors, so it makes sense).  If you replace the anchovies with herring the dish is then called Rostocker Klopse (I suppose after Rostock, a city in the modern german state of Mecklenburg-Vorpommern). Here's a recipe I have used  when I made it for Christmas Eve dinner, and a few other times in the past:
KOENIGSBERGER KLOPSE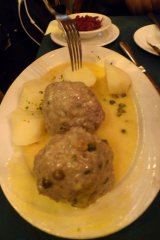 FOR THE MEATBALLS:
1 tbsp. butter
1/2 cup finely chopped onions
2 slices bread with crusts removed (homemade is always best, some say just use white, but i like a light whole wheat as well)
2 tbsp. heavy cream
1 lb. of meat (I use 1/3 lb.  beef, 1/3 lb. pork and 1/3 lb. veal if I can find it)
3 flat anchovy fillets, drained, rinsed in cold water and coarsely chopped (I prefer the jarred anchovies in oil or salt as opposed to the canned ones. if you have anchovy paste, you can use this, but its not a good, and a jar of anchovies is often even easier to find anyway)
2 tbsp. chopped fresh parsley
2 eggs
1/2 tsp. lemon zest (ie graded lemon peal if you didn't know)
1/2 tsp. salt
1/2 tsp. freshly ground black pepper
Melt 1 tablespoon of butter in a small skillet over moderate heat and in it cook the chopped onions for 5 minutes, or until they are transparent but not brown. Remove the skillet from the heat.
Tear the bread into small pieces into a large bowl; add the cream and mix well. Add the onions, ground meat, anchovy fillets or anchovy paste, parsley, eggs, lemon peel, 1/2 teaspoon salt and black pepper. Knead vigorously with both hands until the ingredients are well combined, then put the mixture through the finest blade of a meat grinder. Moistening your hands lightly with cold water, shape the mixture into 8 large meatballs about 2 inches in diameter.
POACHING LIQUID:
2 qt. water
1 med.-size onion, peeled and pierced with 1 whole clove
1 sm. bay leaf
1 tsp. salt
In a heavy 6 to 8-quart saucepan or soup pot, bring the water, whole onion, bay leaf and 1 teaspoon of salt to a boil over high heat. Boil, uncovered, for 10 minutes. Then reduce the heat to low and drop in the meatballs. Simmer uncovered for 20 minutes, or until the Klopse rise to the surface of the water. With a slotted spoon, transfer them to a deep heated platter and cover them with aluminum foil to prevent their darkening upon exposure to air. Strain the poaching liquid through a fine sieve into a bowl and put is aside.
SAUCE:
4 tbsp. butter
4 tbsp. flour
3 tbsp. fresh lemon juice
1 tbsp. capers, drained
2 egg yolks
2 tbsp. sour cream
In a heavy 10 to 12-inch skillet, melt 4 tablespoons of butter over moderate heat. When the foam subsides, stir in the flour. Pour in 3 cups of the poaching liquid and bring it to a boil, beating constantly with a whisk until the sauce thickens and is smooth. Reduce the heat to low; add the lemon juice and capers and simmer uncovered, stirring occasionally, for 15 minutes.
In a small bowl break the egg yolks up with a fork, then stir into them 1/4 cup of the simmering sauce. Whisk the mixture back into the skillet and stir in the sour cream. Taste for seasoning. Add the meatballs and simmer, basting from time to time, until they are thoroughly heated. To serve, return the meatballs to the platter, and pour the sauce over them.