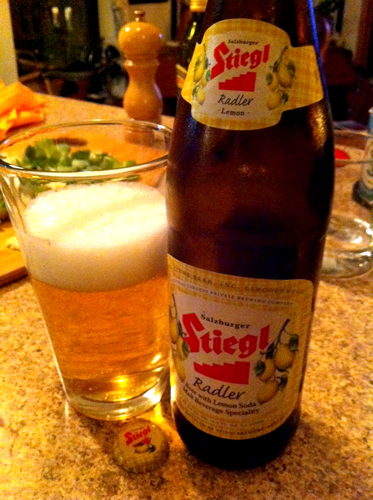 Usually considered a summertime thirst quencher, a Radler is a bavaria Biermischgetränk (basically a beer-based mix drink). Like it's British cousin, the Shady, it's half beer and half sweetened drink like a sprite or lemon-aide. Actually, I think the only true difference between the two drinks is what country you make it in and what beer you're using. So if you use a light german pilsner and a orange soda-water, than it's a Radler. If you're in England and its Bass and a ginger ale, then you're enjoying a Shandy.
It's higher in sugar (well depending on the mixer) and lower in alcohol than drinking straight bier, so Bavarians and many other german speaking regions view this as the equivalent of an iced tea. It's an afternoon hot day sipping drink (although you might look like a nutjob if you used a straw). Summer might be gone, and the fall weather seems to be taking hold, but it's not too late to maybe slip in your own version of a Radler at least once before warm days are a memory for the year.
I've had these in Austria, and mixed a Bierhalls, but I had never come across a pre-made bottle version of it before. This changed after a visit to Yankee Spirits New England's Largest Liquor Store (which is some kind of box store sized tourist destination in Sturbridge MA). I came across a Radler made by Austrian Brewery Stiegl. According to their site they make it in flavors all split with their Stiegl Goldbräu. It's an easy way to enjoy a Radler, but I must say I prefer to make my own if I'm ever in the mood for one of these (which frankly isn't all that often). That way you control the sweetness of the mixer as well as the quality of the bier.