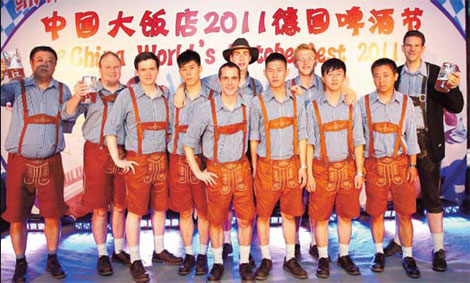 Oktoberfest is a celebration that most of the world confuses. The main confusion is usually that it's in October, when in reality, it actually just ends the first week of October, but starts in the middle of September.
It's basically the world's longest wedding party. It started in 1810 when the crown prince of Bavaria, Ludwig I married Princess Therese (not to be confused with a later successor with the awesome name of "Mad King Ludwig II", who later built the famous Neuschwanstein). All the residents of Munich were invited to join in on the festivities and the rest as they say is history, 200 years of history.
I have yet to visit the true Munich Oktoberfest, where only bier brewed within the city limits is allowed to be served. It's a goal of mine once I move beyond an elementary level of the german language. But now the 2+ week long celebration has come to be celebrated outside of Munich as well. Originally as a way to embrace german heritage, then in the same manner as St. Patrick's Day, an excuse for anyone to get wasted and wear a stupid hat no matter what their background, as evidenced from this photo of an Oktoberfest Celebration at a hotel in Beijing China.
So as yesterday saw the close of Munich's Oktoberfest festivities, we bid you a fond farewell until next year.