[singlepic id=39 w=320 h=240 float=right]
Ah Schnitzel & Things, you are truly the odd man out in my bier hall crawl for one obvious reason. As a traveling street truck, you don't serve beer, so no beer meter rating here. So for official bier hall crawl #3 I made a stop over to the much hyped and award winning (it won the Vendy Award last year for "rookie of the year". If you don't know about the Vendy's it's in my opinion, one of the most important awards in NYC given for excellence in street food vending).
Americans (especially those from the California or Texas) are often confused as to what schnitzel is, and even more confused about what wiener schnitzel is. The Los Angeles based fast food chain, called "Wienerschnitzel" (originally Der Wienerschnitzel, which is also grammatically wrong, it should have been Das Wienerschnitzel) servers primarily hot dogs. They do not serve pounded veal cutlets that are then breaded and fried in the style of Vienna, which is what Wiener Schnitzel (two words) really is. Schnitzel is a traditional austrian dish, Wiener Schnitzel (which means Vienna Schnitzel) is legally protected in the country. Meaning if it's listed on a menu as such, it has to be made of veal, otherwise it can't be called "Wiener" Schnitzel. The idea of pounded and breaded meal cutlets itself isn't a foreign concept for many italian or southern americans, who know of veal parmesan (basically the same thing with the addition of tomato sauce and mozzarella cheese) and chicken fried steak (thought to be an originated from german or austrian immigrants to texas in the 19th century). Perhaps if the restaurant chain had named themselves "Wiener Würsten" (vienna style small sausages/wursts) which is more what they sell then we'd have less confusion.Then again that reminds me of "Vienna Sausages" which you get in a can from the supermarket. If you have never tried these horrible things, which i feel were made by Dinty Moore or something (a name which puts shivers down my spine). My father and I bought them on a backpacking trip when we first started camping cause we thought it would be a refreshing break from all the dried items we were eating the rest of the weekend. Needless to say, perhaps since he wasn't in the navy at the time, they weren't a good as he remembered, and the contents of the can were either thrown into the fire or left out in the woods for some bear or porcupine to eat. If you've never tried them, do yourself a favor and eat some dirt instead.
Ok, enough of that what is and what is not Schnitzel rant, and onto the matter of the Schnitzel & Things truck itself. Being a big fan of Midtown Lunch and food trucks and carts in general, I knew of the existence of a truck that sold schnitzel long before I ever got a chance to try it out. I set up a personal twitter account is just so i could follow the daily parking locations of nyc food trucks. No sooner had I set that up and added Schnitzel & Things to trucks I followed, then I realized that right across the street from my work on wednesday who parks there, but the schnitzel truck. They actually beat me to the punch, since I saw it in person long before I bothered to check my twitter account at lunch, there's technology at work for you. When it was still warm last fall, I used to get a schnitzel sandwich and eat it in the park. But in order to hold to my rules and make it an official (all be it quicker) bier hall crawl stop, I needed to get a full platter and take some photos.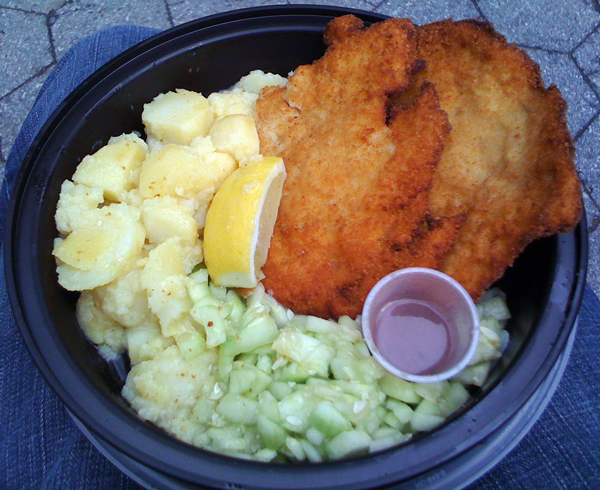 Normally there's a fairly decent line. Nothing close to the Shake Shack, but enough for me to be presently surprised when I went yesterday when I didn't find a line at all. Yes I suppose some of the initial hype and excitement over the 2009 truck fade and the schnitzel truck in particular, but hey they were still featured on Martha Stewart radio that morning, and to be honest, it wasn't the warmest of days, and it was long after the lunch time rush, but before they took off for the day. So to order. How does one do that? First choose pork, chicken, or cod schnitzel on a sandwich, or a platter that comes with a choice two sides, then top that off with one of their fancy sounding condiments (Spicy Sriracha Mayo, Alfonso Olive Sauce, Ginger Garlic Relish and a few others) and you have yourself a pretty hearty lunch. They even have a schnitzel burger, which I've never had, nor seen, so I can't say anything about it either way. Their sides are really good and although they are basically german in nature, as with most of their items, they have worldly flair. Even their cucumber salad is more along the lines of an asian quick pickle that you make with just some sugar and salt, and not the standard vinegary deli one I find to be more standard. The basic german tastes mixed in with other ethnic flavors of their sides and sauces works really well. Who expects all german food to just be of german origin? Food and cultures have evolved over time by borrowing from their neighbors and trading partners, why should that not only increase with a smaller global community that the world is becoming. Its only when the origins or the traditions themselves are lost that it's a shame. Borrowing other methods to enhance what you already know or make is the mark of any good cook, and I think it's one of the things that make Schnitzel & Things so tasty.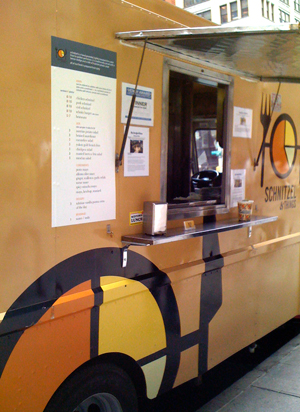 I enjoyed my platter in the park and finished it all off with a tahitian vanilla panna cotta, and that was just lunch. So I have to thank Schnitzel & Things for bringing a little international german flavor back to the streets of new york. What's not to like about that? In fact my only general criticism of Schnitzel & Things is the giant plastic containers they serve their food in. Since you need to order everything to go, being that they are just a truck, it would be a bit more eco-conscious if they used smaller or more environmentally friendly packaging. Other then that, it's so worth tracking down its parking spot for lunch. So, not my standard bier hall crawl, but a great modern twist on some german standards, and worthy of a few pretzels on my pretzel-meter.