The Weisses Haus is consistently ranked at the top of Munich's brauhaus list (which is like being the top bagel shop in NYC, which means it's saying a lot). Often overshadowed and overlooked compared with the more celebrated Hofbraühaus, Weisses Brauhaus is well worth the trip.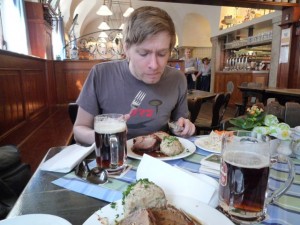 I had heard about the Weisses Brauhaus before when I first started looking up things to do while in Munich. I knew I had to go and I knew I had to try their "bierbraten". When we got to Munich and checked into our hotel, we were really tired from the flight. I figured we had to do some tourist stuff around town before completely collapsing and waisting the rest of the day. The idea of hitting the Weisses haus wasn't first and foremost on our minds, however as luck would have it, we managed to happen by it just as we were getting hungry. Stumbling across it at an off hour might not have been a bad thing either.
Let me just start by saying that their wait staff is adorable. Even the korean woman we had on our second visit was still decked out in full Bavarian Dirndl (the traditional bier maiden outfit you imagine in your head) and spoke great German and English. When we first entered, and since this was the first place we were eating out, I really wanted to confidently walk in, and in my best 1st grader level of german say "table for 2 please", but I was a bit timid and Shaun was a bit hungry, and just asked for a table in english, as well as some english menus. I tried to survive strictly using the german menu but in the end cheated and looked at Shaun's english one. Obviously a german class would do me well.
We both knew off the bat we wanted the bierbraten, and Shaun ordered a Weisses Dunkel right off the bat as well, which I followed suit. This actually ended up being the start of my Dunkel-fest in Munich, as I think I ended up ordering it 90% of the time. The steins of bier arrived and I don't think we could have been more satisfied. The charming decor with it's 16th century pub feel tucked away right in the city of the city could not be more perfect. Yeah, the Hofbraühaus has its giant bierhall feel, but this is more a place you feel cozy in, and want to hang out at.
When the food came, our satisfaction was only increased. The bierbraten was amazing. There's is basically a pork shoulder soaked in their own Dunkel bier for ages and then roasted. Not a light meal but any stretch of the imagination, especially when it comes with bread dumplings (like classic german potato dumping balls but also made from bread that are unbelievable), and a side of sauerkraut (with pieces of pork fat in it), but the combo of that and the Dunkel, made for the best first meal I think I've ever had on a European trip. I'm gonna post an entry on what's a Dunkel, and some braten recipes later one (including my grandmother's sauerbraten, which according to her was always a trick, since most of the family didn't like sour meat, so she basically just dunked it in the sour sauce and served it on the side)
As I mentioned early in reference to our waitress, we actually came back here a second time. We ate outside this time, and changed up what we ordered (other than the biers) just for variety. I'd have to say hands down this was my favorite bierhall in munich, and the one for which I will be basing my bierstein and pretzel meter standards on when I start reviewing the bierhalls and restaurants of the NYC tri-state area.