Ah the Royal Brew House of Munich. This is the Holy Grail of bierhalls. No trip to Munich is complete without a visit to this fabled hall (sadly this held true for Hitler but you'll ignore that for now).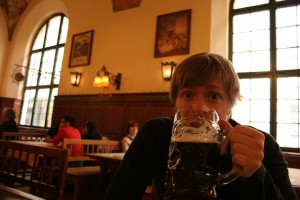 The Hofbraühaus is most likely one of the biggest tourist attractions in Munich. To be honest, I found that a little intimidating cause it means its gonna be crowded. Since we had just come Munich farmer's market, and a second trip to the Weisseshaus, we decided to hit the Hofbraü at an off hour and just get a giant bier and a pretzel.
This does mean I can't give it a pretzel rating for the food, unless I counted just the pretzel I had. Which I have to make a note about. Order your pretzel from your server. There are also adorable ladies in beer maiden costumes walking around selling pretzels and giant ginger heart cookies with frosting that are popular around town. It's tempting to get a pretzel and a photo of you and the lovely lady, but for some reason these pretzels are over twice the price of the ones on the menu.
I think my favorite thing about this bierhall is the space. It's huge. There's several sections too that make the whole place seem like several different bierhalls. There's the giant hall with it's folk paintings, wooden stalls and tables (most with craved initials of overly excited former visitors). There's the bar area with this lower ceiling, darker lighting, and more pub like feel. There's also the central outdoor courtyard lined with trees.
Another neat feature of this place is that locals and returning visitors seem to be able to rent or keep a stein on the wall. They have this one section I didn't understand where they were all surrounding giant medieval looking barrels containing beer. I had to finish my visit off in the gift shop of course (yes I needed a hofbraü bandana and stein and I think my grandfather really needed the overpriced logo imprinted golfball). Overall, it's a must have stop of any visitor to Munich, even if you just have a pretzel and a beer.